Emo Crys isn't satisfied about this progress.

This article contains a spoiler alert for an upcoming episode or character
For more information about the spoiler alert, please ask the administrator. You may be warned, please read at your own risk.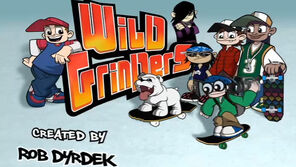 Episodes are created in two 11 minute-long segments.
Lists of Shorts
| No. | Title | Date Aired |
| --- | --- | --- |
| 1 | Lil Rob's Short |   |
| 2 | Jay Jay's Short |   |
| 3 | Emo Crys's Short |   |
| 4 | Spitball's Short |   |
| 5 | Jack Knife's Short |   |
| 6 | Meaty's Short |   |
| 7 | Goggles's Short |   |
| 8 | Stairs |   |
| 9 | Concrete |   |
| 10 | Pebbles |   |
| 11 | Chanel's Short |   |
List of Episodes
Specials
No.
Title
Date Aired
Special 1
Golden Grinders
Unknown
When Lil' Rob and the crew finds two wealthy parents, Chad and Nashalina, they have their lives changed that they will become the golden skaters of their eager.
Special 2
The Lost Skate Spot
Unknown
Lil' Rob discovers the map that can lead his team to an ancient skating area.
Season 1
Season No.
Overall No.
Title
Air Date
1
1
Deconstructed/Close-Up
4/27/12

1a
The Grinders must figure out a way to save their beloved skate spot from Track Huckersterball, who plans to turn it into a theme park!

1b
Hotshot TV producer Chip Fligginton is looking for a new star. When Lil Rob catches his eye, Chip casts him and the Grinders in a series of terrible reality shows.
2
2
Going Hollyweird/Shark Attack
5/4/12

2a
When Lil Rob lands a part in Track Hucksterball's big budget skateboard movie, he has to contend with the Hollywood-sized ego of its director - his best friend, Goggles!

2b
Inspired by a skater named Shark Attack, Lil Rob heads underwater to skate with a giant shark and recover dread Pirate Brody's deep-sea treasure . before Stubford does!
3
3
Never Skate with Unicorns/Biggest Sellout
5/11/12

3a
Lil Rob is skating in the garden when a freak accident sends his board flying into the into one of Denise's prized glass figurines- a unicorn named Jasper. Rob plans to replace Jerome before Denise notices, but he realizes that finding a replacement unicorn is much more difficult than he anticipated.

3b
Emo Crys paints an awesome mural of a skateboarding hamster. The design is a hit at the skate park and Track Hucksterball sees a way to make money off the idea. Meaty sells the rights to "Hank the Happy Hamster" and soon merchandise featuring a much "softer" design is everywhere.
4
4
The Prince & the Skateboarder/Board Story
5/18/12

4a
Jack Knife swaps places with his regal look alike during the Royal Skateboard Cup and realizes that living the high life isn't all it's cracked up to be.

4b
The Grinders' boards escape and make a new life with Stubford. After realizing Stubford will never make them happy, the boards must find a way to reunite with the Grinders.
5
5
Out of Tune/Picnic of Doom
5/25/12

5a
When Lil Rob embarrasses Denise, she uploads a video of the Grinders' humiliating wipeout! He responds by uploading Denise's auto-tuned rant about her crush!

5b
Lil Rob and his dad Gene keep beating Stubford and Track Hucksterball at the company picnic games, but can they win the Golden Tool when Stubford rigs all the events?
6
6
Neptune's Chowder/Squatch Grinder
6/8/12

6a
Lil Rob is determined to join Shark Attack and surf the massive wave Neptune's Chowder, but can he get anyone to join him?

6b
Lil Rob and Meaty discover Big Foot on a camping trip and invite him back to Sprawl City to join the Wild Grinders!
7
7
The Amaaaazing Adventures of Captain Grindstar/Lil Red Riding Rob
6/15/12

7a
At a comic convention, when the villainous Stubford captures Goggles' favorite comic book movie star, it's up to costumed heroes Lil Rob, Goggles, and Meaty to save him!

7b
Tricked by his obnoxious older sister Denise into babysitting Bratzilla, Lil Rob spins the tale of "Lil Red Riding Rob" to try to get the little baby boy to sleep.
8
8
Space Race/Road Tripped
6/15/12

8a
Lil' Rob wins a trip to the Space Station with Meaty and Jay Jay, but what happens when their tour goes haywire and their space shuttle crashes onto the moon?

8b
Lil' Rob faces his nightmare - no skateboarding on his family vacation! And things go from bad to weird when a creepy truck starts mysteriously following the family!
9
9
Grindermania/Crushin
6/22/12

9a
The Grinders rocket to instant fame as a rock band, but a petty pretzel argument threatens to tear the band apart!

9b
To get the attention of Freddy, a skater dude who works at the taco truck, Denise forces Lil Rob to teach her how to skate!
10
10
Jurassic Skatepark/The Chosen Bulldog
6/22/12

10a
Lil Rob, Meaty and Goggles accidentally break the time barrier while skating and go back to the time of dinosaurs! Can they skate their way back Sprawl City?

10b
Meaty must face off with wiener dog Mr. Sprinkles in the ancient art of PawJitzu to get Lil Rob's skateboard back – that is, if Meaty can learn it in time.
11
11
Gnarly Craft
6/29/12

11
When Lil Rob gets trapped online in the World of Gnarly Craft game, the Wild Grinders' online avatars must help him to defeat the evil Lord Stubicus of Castle GnarSkull, or be trapped in the game forever!
12
12
My Lil Unicorn/Breakfast of Skaters
6/29/12

12a
Denise's new pet unicorn Jasper frames Meaty and gets him banished to the backyard, so Lil Rob sets out to expose the mythical menace!

12b
Lil Rob wants to enter a video contest so he can be the new face of SkatyOh's cereal, but Stubford's bought all the boxes in Sprawl City to ensure that he wins.
13
13
Skater Who Cried Wolf/Good Dog, Bad Dog Academy
7/6/12

13a

Lil Rob gets suspicious when Meaty starts hanging out with a new kid named Chris.like the fact that Chris might be a werewolf!

13b
Lil Rob has to attend obedience school with Meaty, but an intense drill sergeant, Schultz, is making the best friends miserable!
14
14
Meaty in Black/Grinders of Invention
9/7/12

14a

Special agents from Area 50 and 1/2 kidnap Meaty to use his drool in an evil plot to rule the world. Can Lil Rob and the Grinders save him before it's too late?

14b
When Goggles wins his own laboratory, he tries to impress his parents with wild inventions. To "help" manage his time, Lil Rob fills in at Goggle's family obligations.
15
15
Lil Rob Roundup/Wild Step Brothers
7/14/12

15a

Lil Rob needs Goggles to clone him so he can skate in two competitions AND do all his chores. What could possibly go wrong?

15b
Bring Your Son To Work Day gets even lamer when Lil Rob's dad brings home Stubford for a week! Can Lil Rob convince Mr. Hucksterball to take Stubford back?
16
16
Swaggerless/Goggles Shrunk the Grinders
7/21/12

16a
Lil Rob's plan to hypnotize Goggles backfires and the other Grinders need to find a way to reverse the hypnotism.

16b
Goggles creates a Decreasinator to shrink skateboards to pocket-size. Unfortunately, the ray backfires and shrinks the Grinders!
17
17
Preston Change-O/Biggest Fan
7/28/12

17a
Lil Rob learns a magic trick from Preston, the class magician, and accidentally switches bodies with Meaty!

17b
Lil Rob has a new biggest fan, a kid named Bob. But Bob's hero-worship quickly gets out of control when he starts to act and dress like Lil Rob and as "Lil Bob" starts to take over Lil Rob's life.
18
18
Substitute Secret Agent/Wild Scouts
10/5/12
18a

When Lil Rob mistakenly receives a secret spy package, he gears up with Goggles and Meaty to save a royal family!

18b
When the Grinders join the Sapling Scouts and get lost, it's up to Jay Jay to lead them on to The Ramplands!
19
19
Wild Zombies/Scream a Little Scream
10/26/12

19a
When the Grinders carve a cursed pumpkin for Halloween, they turn into zombies! And even stranger, they let Stubby become the leader of the Wild Grinders!

19b
The Grinders spend a night in a haunted house to catch a ghost on video, but are quickly picked off one-by-one in a series of horrific, hilarious mishaps!
20
20
Search for Master Sensei/Meaty's Royal Adventure
11/2/12

20a
When Spitball's Street Ninja teacher is kidnapped, it's up to Lil Rob, Spitball and Meaty to save Master Sensei.

20b
Meaty is named heir to the Royal Doghouse of Moronico, but being royalty means no skating! Can the Grinders help?
21
21
Hoopz Dreamz/Who's the Dummy, Dummy?
11/9/12

21a
When injury takes out Flipz and her teammates, the Grinders play b-ball to save The Hucksterballer's season!

21b
Goggles gives up the Grinders for a ventriloquist act! Can Lil Rob convince him to put aside Bobbo and come back?
22
22
A World Gone Rad-Awesome/Operation Supernova
11/16/12

22a
Lil Rob travels to an alternate dimension where everything's opposite! Can he restore balance to a world gone mad?

22b
Lil Rob, Meaty and Goggles join Agent Capricorn to stop two evil agents and their new ally, Track Hucksterball!
23
23
Grindstar Returns/Skaterz of Ollie
11/23/12

23a
Captain Grindstar asks Lil Rob and Goggles to watch his pet goldfish, but when Stubford steals it, the guys need to become superheroes themselves to get it back!

23b
Lil' Rob and Meaty were transported to another world by a tornado, which was named as Ollie. Lil' Rob and Meaty must stop the evil witch from conquering Oliie.
24
24
Grinder Claus/Merry Grindernukamas
12/3/12

24a
Even Santa Claus has a Christmas wish: he wants to skateboard with Lil Rob! But when Santa falls and can't fly the sled, can the gang deliver all his presents?

24b
Lil Rob thinks holiday cheer has gone missing, so he and the gang create a new holiday: Grindernukamas! However, making a new holiday isn't as easy as it sounds!
25
25
Take Me to Your Stubford/Emo's Mystery Girl
2/15/13

25a
Aliens abduct Lil Rob and Stubford and put them through a series of tests to determine who is more rad-awesome

25b

Emo Crys has been texting a unicorn-loving girl he met online, but he's nervous to meet her in person!

26
26
Board Senseless/Big Top Rob
12/23/13

26a
To win the RadStar X5 skateboard back from Denise, the Grinders must give up skating for a week! Can they do it?
26b
Lil Rob and the Wild Grinders must save the show when Jack Knife's Family Circus comes to town!
Season 2
No.
Overall No.
Title
Date Aired
1
27
Texas Skateboard Horrorland Zombie Activity 3
10/18/13

1/27
Lil Rob and the Wild Grinders accept the Skatey Oh's Cereal challenge to stay the night in a haunted house. But once they enter the house, they realize that this challenge might be easier said than done. Can Lil Rob and the Wild Grinders survive the night?
2
28
Grindbox 1080
2/5/14

2/28
Lil Rob zaps himself into Goggles' amped-up video game to help save Stubford and now they're both trapped in the digital world! Together, they must power their way through levels of gnarly villains to escape!
3
29
The Secret Life of Spitball/Backside Grinders: Reunion Tour
2/12/14

When the gang realizes Spitball's life outside the Grinders is a complete mystery, they decide to follow him for the day. Lil Rob and Meaty discover that he's up to some pretty rad adventures!

When a new teen idol threatens the popularity of the Backside Grinders, Lil Rob has no choice but to get the dudes back together to defend their musical honor! It's an epic battle of the boy band idols!
4
30
Survivored/Fast Times at Sprawl City Middle School
2/19/14

When the Wild Grinders get stranded on a deserted island, Lil Rob does his best to turn it into a boarder's paradise - until Stubford washes up.

Lil Rob is always late...until he hops on Goggles' new Hyper Turbo board! But when he kicks it up to 11, will Lil Rob get stuck at hyper speed forever?
5
31
The League of Xtraordinary Sk8ters/Wild Grinders, Assemble!
2/26/14

When Lil Rob's viral video crashes the interwebs, his new found fame attracts the attention of Todd Topdeck who needs a web celebrity to boost awareness of his less-than-successful Skate League. But Lil Rob gets more than he bargained for when his idol Todd is anxious to compete with Lil Rob.

When a giant alien robot threatens to conquer the planet, it's up to Lil Rob and the Grinders to save the day! Goggles creates seven tricked out super skateboards that can be combined into one giant super robot to help them battle the alien robot. Of course, Stubford wants to tag along and spray paints his own board to be part of the crew and then Grinders must save him as well.
6
32
Pen Pal From Another Planet/Roman Grinders
3/5/13

6a/32a
Jack Knife is always texting his new pen pal. Lil Rob thinks his friend is being punk'd, but the truth may be more out of this world ... literally.

6b/32b
Goggles invents a reverse microwave to cool down a burrito and accidentally sends the Grinders back in time to Ancient Rome to face Emperor Stubbicus!
7
33
The Luck of the Grindish/Bend it Like a Grinder
3/12/14
7a/33a
Meaty wins a leprechaun's hat and gets all the powers and responsibilities of a real Leprechaun. But be careful what you wish for because soon everyone's after Leprechaun Meaty for his legendary pot of gold.
7b/33b
Lil Rob and the Grinders welcome Sir Percival, an exchange student from across the pond. Sir P may be a great amateur athlete in his home country, but he can't get the hang of boarding. Before he returns home, the Grinders have to teach him how, or risk their reputation overseas.
8
34
The Treasure of the Sierra Sprawl/Special Delivery
3/19/14

8a/34a
Facing a recall of the great gas-giving snack, Stinkies, the Grinders embark on a treasure hunt to find the very last one.

8b/34b
The Wild Grinders compete with the Fixees to see which group will become Papa Calzoni's newest pizza delivery crew.
9
35
The Tell Tale Board/It's Not My Asphalt!
3/26/14

9a/35a
After wrecking Lil Rob's new board, Meaty lies and says Denise broke it. Will Meaty come clean before he goes mad with guilt?

9b/35b
Goggles invents "smart" asphalt, but it's so smart, it morphs into0 an asphalt monster that causes trouble for the Grinders.
10
36
Dr. Jekyll & Mr. Grinder/Skate or Sick
4/2/14
10a/36a
The Grinders try to figure out what's going on with two kids who never seem to be in the same place at the same time.
10b/36b
Chaos ensues across Sprawl City when everyone catches a mystery disease that Lil Rob invented to get out of attending Tool Con!
11
37
The Big Sleep...Over/Lil Rob'n Hood
4/9/14
11a/37a
Lil Rob agrees to a "play date" with Stubford to find out if his mom's really a mysterious soul-eating monster of legend.
11b/37b
Discover Lil Rob's legendary relative, Lil Rob'n Hood, who stole burritos from the gluttonous King Stubford and gave them to the starving townspeople.
12
38
School Daze/Grindergeddon
4/16/14
12a/38a
Lil Rob hatches a plan that will get him out of school and give him more time to skate at the Lot. He convinces Gene and Patty that he should be home schooled, thinking one of them will be his teacher and he'll be able to cruise through the day. But Lil Rob's plan goes awry when he shows up for his first day of home schooling and is greeted by his new teacher...Denise.
12b/38b
The Grinders take the space shuttle up to an asteroid that's going to pass by earth so they can have the ultimate skate experience in super-low gravity. But when Stubford horns in on their action, he bumps the asteroid off its path and aims it straight for earth. It's Grindergeddon! Will Lil Rob be able to pull off a Jack Knife-inspired move and save the earth from the asteroid?
13
39
Wild Grinder with Two Heads/The Legend of Jilly
4/23/14
13a/39a
Goggles has created the ultimate invention: a ray gun that'll combine two foods into one even more awesome food. Goggles warns them that his ray gun is experimental and has no idea what will happen if it's used on something other than food. Jay Jay and Emo Crys ignore the warning and as they have a tug-of-war over the ray gun, it accidentally goes off! Zap! Emo Crys and Jay Jay are combined into one Wild Grinder with two heads! It's up to Lil Rob and crew to figure out a way to return them to normal before they're stuck as the two-headed Grinder forever!
13b/39b
A mysterious creature's terrorizing Sprawl City and Denise thinks it might be her long lost baby alligator who went missing in a bizarre toilet accident. Lil Rob, Meaty and the Grinders take Denise on a quest into the city's sewer system and find more monsters than they bargained for and only one of them might be an alligator.
14
40
Midas Touch/Pre-Teen Mutated Karate Warrior
9/3/14
14a/40a

When Lil Rob and the Grinders take a "coolness" Goggles' coolness quotient ranks so low, it's off the scale. Lil Rob reminds Goggles of a kid who used to skate at the Lot named Shecky. Seems Shecky used to be the ultimate nerd, but now he's an ultra-cool skater who's got a bit of the "Midas touch" as everything he does now is awesome. Shecky agrees to give Goggles a Scheck-over and does a total makeover of Goggles' image.

14b/40b
Lil Rob is responsible for babysitting the new classroom pet. A turtle named Gary has a secret: He's an elite, skilled hero - or at least he used to be. Gary's lost his mojo recently after losing a battle with his evil nemesis, a hamster named Mr. Chews. Gary's been laying low as the class pet and is thinking about changing his career. Lil Rob and Meaty promise to help Gary get his mojo back so he can stop Mr. Chews.
15
41
The Amaazing Racers/Wild Wild Mess
9/10/14
15a/41a
Lil Rob and Stubford compete in a race across the globe to win a lifetime supply of bacon-wrapped tacos.
15b/41b
When Stubford becomes sheriff for Wild West Day, he starts rewriting Sprawl City's history, and it's up to the Grinders to stop him!
16
42
Grindinator/Grinder of Another Dimension
9/17/14
16a/42a
Lil Rob's grandson goes back in time to help the Grinders destroy the evil robot skateboard that takes over future Sprawl City.
16b/42b
Preston vanishes Jay Jay to the 4th Dimension where the Grinders must go to save him from a germ-cleaning vacuum!
17
43
Fists of Justice: The Beginning/Lil Rob & the Beanstalk
9/24/14
17a/43a
The Wild Grinders form a superhero team with Captain Grindstar to battle an alien invasion that threatens to destroy the planet.
17b/43b
Jack Knife trades his only skateboard to Preston for some magic jelly beans. He plants them in Lil Rob's garden and Lil Rob wakes the next morning to find a giant beanstalk growing into the sky. Lil Rob and the Grinders are thrilled to find an awesome - and oddly oversized - skate park in the clouds and immediately start riding. But the castle and the skate park belong a mean giant who just happens to look exactly like Stubford.
18
44
Demolition Man, Man/Hair Today, Gone Tomorrow
10/1/14
18a/44a
When Jack Knife enters a skateboard demolition derby, he finds he must face the undefeated champion he idolizes, Crash Basher.
18b/44b
 It's an alien hair-a-thon as Lil Rob and the Wild Grinders discover that the evil Alien Hair of Count Forelock has taken over Lil Nyjah, one of the kids at the skatepark. An invasion is surely imminent as one-by-one the Grinders fall under the hair's control. Lil Rob and Meaty must snip their friends from the hair and lather, rinse, repeat the takeover of Sprawl City.
19
45
Cat Scratch Meaty/Wild BFF's
10/8/14
19a/45a
Meaty becomes an internet sensation by disguising himself as a skateboarding cat. Will he be able to keep the ruse up or will he lose his new-found fame?
19b/45b
When Jack Knife begins to act like his new brother for Stubford, the Wild Grinders must break up the bromance to save Jack!
20
46
A Mole Lot of Trouble/Redonkulousness
10/15/14
20a/46a
The Mole King is determined to get revenge on the Grinders. Seems all the grinding they do at the Lot is making the Mole King's underground kingdom too noisy. The Grinders manage to drive the Mole King from the Lot, but Lil Rob and Meaty are in for a surprise when they return home to find the Mole King and his mole minions have taken over Lil Rob's house, forcing Gene, Patty and Denise to rough it in the backyard.
20b/46b
When Jack Knife crashes into a donkey, the video goes viral thanks to an appearance on Todd Topdeck's hit show "Redonkulousness." But viral internet fame is fleeting when his popularity is challenged by a roller-skating chicken, Lil Rob and the Wild Grinders help Jack Knife fail bigger and better and with a lot more donkeys!
21
47
Web Wars/When You Grind Upon a Star
11/5/14
21a/47a
The Wild Grinders stream a webcast featuring 24-hour coverage of all things Grinder. Denise, angry that her channel isn't getting any hits, starts sabotaging the Grinder's tricks for her Epic Fail Live Feed. It's action cam vs sister cam as Lil Rob tries to pull off The Lil Rob Challenge without Denise messing him up. In the end, Denise's efforts to embarrass Lil Rob result in her accidentally pulling off the big skate trick herself, in the worst way possible, live on the Wild Grinders' webcast.
21b/47b
The Super Duper Ultra Extreme-o ramp is coming to Sprawl City and Lil Rob wants to nail it without wiping out. To help them practice, they create a ramp-test dummy, Jagger 2.0. But when Jagger accidentally comes to life and wants to be a real boy, Lil Rob and the Grinders have to help him before he can hit the ramp.
22
48
Mr. Dogfyre/Blast from the Past
11/19/14
22a/48a
There's a new dog at the Lot named Trevor, who's a huge fan of the Backside Grinders and it's his dream to play drums with the band. Lil Rob gets the band together to play with Trevor, Meaty gets jealous, disguises himself and creates a persona he calls Dogfyre - an over-the-top rock-and-roll drummer - with the intention of getting Trevor kicked out of the band.
22b/48b
Lil Rob finds an old first place trophy for a skating championship in the attic and assumes it's his Dad's trophy. Goggles breaks out the time machine skateboard so Lil Rob can go back in time with Meaty to see Gene win the trophy. When Lil Rob arrives in the past, he collides with an 11-year-old Gene who's riding his skateboard. Gene wipes out and is embarrassed, vowing to never skate again. Lil Rob thinks he changed his dad's destiny. Together with the kid version of Goggle's dad (Toggles), Lil Rob works to get Gene to skate again and thereby fix the timeline.
23
49
Getting Cheezy/Grindy the Snowman
12/3/14
23a/49a
Lil Rob's cousin Virgil has become the world's biggest rap star: Cheez Puffy. But Cheez misses having a "normal" life, and wants one day without paparazzi on his tail. Lil Rob offers to switch places with Cheez Puffy for the day. Cheez Puffy's day is a dream come true as he gets to live a day as Lil Rob. Meanwhile, Lil Rob gets more than he bargained for when he tries to keep up with the whirlwind that is Cheez Puffy's life and accidentally gets into a rap battle with a fellow rapper, DJ Tater-naise. Too much of a good thing?
23b/49b
Lil Rob and the Wild Grinders love a snow day, and when their snowman, Grindy, accidentally springs to life, he makes the day better. But Grindy wants to keep the snow days coming forever and that's when Lil Rob has to turn snow day back into a regular day and stop Grindy from blizzarding Sprawl City.
24
50
Wild Grinder Style/Call of the Wild Grinder
12/10/14
24a/50a
Lil Rob creates a new dance and song called Ticky Tack- Tack style. Goggles films Lil Rob doing the dance and uploads it. The video goes viral and Lil Rob finds himself at the center of a global craze! With the Wild Grinders as his posse, Lil Rob gets swept up in a global tour where he does the Ticky Tack-Tack style song and dance over and over and over and over. It's all anyone wants to see him do or talk about. Lil Rob just wants to be a skater, but how can he shed global fame to do the only thing he really wants to do...skate.
24b/50b
Lil Rob wants to skate down a mountain, so he has Goggles whip up some off-road skateboards. While skating in the wild, Lil Rob and the Grinders stumble onto a mystical world of talking woodland creatures, who welcome Lil Rob and the Grinders with open paws. It's all very sweet and cheerful - until it's time to go home. In order to keep their secret safe, the sweet woodland creatures turn a bit nasty and insist Lil Rob and the Grinders stay with them...forever!
25
51
Lights, Camera, Denise!/Gas Knight
2/4/15
25a/51a
Can Denise save Freddy's movie and the Grinders when a giant robot "prop" goes on a rampage on set?
25b/51b
A jealous Stubford challenges Meaty the Gas Knight to a battle for the gas-powered board he uses to fight crime in Sprawl City.
26
52
Great Wheels of Fire
2/11/15
26/52
The Grinders are missing! Spitball's mentor Master Sensei fears his nemesis Fong Say Yuck has returned and his evil power is growing. Master Sensei chooses Lil Rob to defeat Fong Say Yuck and save the Wild Grinders. Accompanied by a astral projection of Spitball, Lil Rob is helped by the Wolf Spirit and the Dragon Spirit as he searches for the mythical skateboard -- The Wheels of Fire -- whose power can help him defeat Fong Say Yuck.
Trivia
On the opening sequence of Wild Grinders, it shows that Stubford Hucksterball attacks Lil Rob by skating a bit smoothly and straightly with his mechanical legs. This implies that it was a temporary and false description, because Stubford does not skate perfectly during the entire series.
Some scenes of the opening sequence are seen in Deconstructed, Close-Up, Shark Attack, and Going Hollyweird.
A mistake is shown in the Wild Grinders opening sequence: Part of the beginning shows that Lil Rob was skating with his original cap, instead of his helmet. His helmet was shown when Stubford appears to attack him.
Some of the promos of Wild Grinders are missing on the Nicktoons website.
Some of the characters and their voice actors (except for the main characters, and a few recurring characters) are absent in the ending credits.  
Gallery
Error
Intro
Community content is available under
CC-BY-SA
unless otherwise noted.